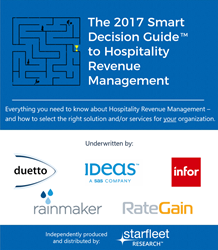 Starfleet Research, the leading provider of best practices IT research for the hospitality industry, today announced the release of The 2017 Smart Decision Guide to Hospitality Revenue Management. It is currently available for complimentary access.
Previous editions of this popular guide have served as an invaluable resource for senior hotel executives, general managers, revenue managers, IT directors and other decision makers seeking to upgrade their revenue management capabilities. The 2017 edition is completely revised, updated and expanded to highlight emerging trends and new technology innovation, with a focus on revenue management as it applies not only to guest rooms but across all parts of the hotel or resort property.
The 2017 Smart Decision Guide to Hospitality Revenue Management features the latest research findings, insights and recommendations for achieving increased hotel occupancy, revenue and profitability with next-generation technologies. It also offers practical advice for implementing the right organizational resources, business processes and performance metrics to drive continuous performance improvement.
According to Starfleet Research, large and very large hotels have enjoyed a 10 percent average increase in revenue per available room (RevPAR) with the deployment of next-generation solutions, potentially resulting in millions of dollars in additional profit. Fueled by the rapid growth of big data processing, demand forecasting and pricing optimization models, these solutions give hoteliers unprecedented inventory management and pricing control.
"Next-generation revenue management solutions make it possible to manage pricing in a way that dynamically responds to changes in demand and optimizes profitability based on price elasticity," said Jeff Zabin, research director at Starfleet Research. "The need for these solutions has become increasingly urgent with the proliferation of online travel agencies with differing pricing and commission structures, shrinking booking windows, ever-more intense hotel competition in high-demand destinations and ever-increasing pressure to drive profitable growth."
The research is based on data collected from 152 qualified survey respondents. The content was independently produced, providing for unbiased, fact-based information. The underwriters of the new Smart Decision Guide, all of which participated as underwriters of the previous editions, are the following industry leaders: Duetto, IDeaS, Infor, Rainmaker and RateGain.
The 2017 Smart Decision Guide to Hospitality Revenue Management is now available for complimentary download. It can be accessed here.
Starfleet Research recently released several other Smart Decision Guides focused on hospitality industry topics. These include The 2016 Smart Decision Guide to Hotel Property Management Systems, which can be accessed here.
The 2017 Smart Decision Guide to Hotel Guest Experience Management, is scheduled to publish later this month.
About Smart Decision Guides 
Smart Decision Guides™ produced and distributed by Starfleet Research serve as definitive resources and required reading for decision makers who need to make technology-related purchase decisions – and maximize the value of their investments. The content is independently produced, without editorial involvement from company underwriters, providing for unbiased, fact-based information and recommendations. Starfleet Research is the IT market research arm of Starfleet Media, the leading provider of content marketing programs for B2B companies in selected niche markets, including hospitality, retail and healthcare IT. To learn more, please visit starfleetresearch.com.