Jo Causon, chief executive of the Institute of Customer Service, has said: "Firms that differentiate on the quality of their customer experience will be best placed to achieve their growth ambitions." She points to a recent study by the Institute as evidence. It found that 65% think customer experience is going to be vital in their fight against competitors, and 64% are planning to invest substantial amounts of money into this function.
By its very definition, the focus of hospitality is centered on delivering a quality experience to its guests. Mining and analyzing online customer feedback provides hotels with an authentic view into how guests view their hotel experiences and what factors are driving their opinions. By presenting this real-time data from multiple sources in a snapshot view, dashboards allow marketing and operational executives to digest large volumes of unstructured guest feedback and glean actionable insights in an intuitive format. Having this intelligence enables them to readily pinpoint and respond to critical, time-sensitive events and helps them uncover and explore issues and trends without getting lost in reams of data or reports.
Navigating the Big Data Speedway
According to The Intelligent Approach To Customers Intelligence , a Forrester Research report, the majority of firms still struggle to fully understand their customers and leverage their customer data as a strategic asset. With Mashable, International Data Corporation (IDC) and EMC Worldwide predicting that the world's data will double every two years, companies need to learn how to extract value from the overload. Created and used effectively, dashboards enable you to do just that.
Author of 'Information Dashboard Design', Stephen Few defines a dashboard as "a visual display of the most important information needed to achieve one or more objectives; consolidated and arranged on a single screen so the information can be monitored at a glance."
A data visualization tool that displays the current status of metrics and key performance indicators for a hotel, dashboards consolidate and arrange numbers, metrics, and scorecards on a single screen. It is optimized to speed the evaluation of and reaction to current trends, challenges and opportunities.
When considering all the information that is being generated about your hotel, an actionable dashboard clearly presents immediate opportunity. In the online world alone, the rate at which guests are tweeting and/or posting their opinions, reviews, and recommendations is growing faster than most can comprehend. Trying to fully understand and derive actionable insights from all these online conversations may seem like finding the proverbial needle in a haystack. With an informed approach to understanding raw commentary across websites, however, metrics can be extracted to represent aggregate performance and presented via industry specific dashboard.
This is outcome is achieved in four key steps:
(1) Data acquisition: capturing relevant commentary online at the individual property level.
(2) Processing: using industry specific NLP (natural language processing) to read every word of every mention to extract hospitality-specific insights.
(3) Analysis: applying hotel- specific algorithms to qualify and organize each insight into a relevant category (e.g., concierge performance, bed comfort, F&B metrics)
(4) Visualization: summarizing massive amounts of raw text via an intuitive dashboard that alerts hotel executives to operational and marketing strengths, weaknesses, and opportunities per every hotel, region and brand.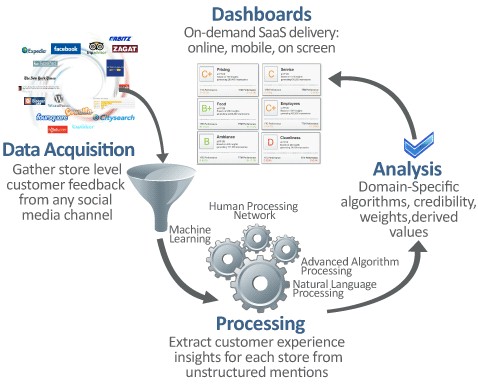 Using Data, Dashboards to Drive Business Strategy
An updated approach to data-driven customer and performance insight requires the utilization of tools and technology to monitor, harvest, house, categorize and, ultimately, make sense of unstructured feedback. Unstructured commentary is the unifying fundamental between online and offline feedback – when harnessed appropriately, it can serve as one of today's most critical competitive advantages in defining a strategy.
But while businesses are deploying analytical decision-making, a steep learning curve remains. A Bloomberg Businessweek Research Services study of 930 businesses across the globe in various industries found that only one-in-four organizations believes its use of business analytics has been "very effective" in helping to make decisions.
To overcome the obstacles to data-driven decision making, such as information overload, it is important to gather essential information without getting bogged down by information that is not helpful. This is best achieved by identifying and aligning marketing and operational efforts with desired business outcomes so you can focus on the most meaningful metrics. Those outcomes and associated metrics are the foundation for your dashboard. Everything on the dashboard should, in some way, tie back to those outcomes and metrics and show how well your marketing and operations efforts are moving the needle.
A properly designed dashboard presents an overview of what is happening clearly, concisely, and quickly. To be most insightful, a dashboard needs to display the right metrics and must:
     A- Be driven by timely, accurate, and reliable data;
     B- Use meaningful, relevant comparisons to put the metrics into context; and
     C- Communicate information clearly, accurately, and rapidly.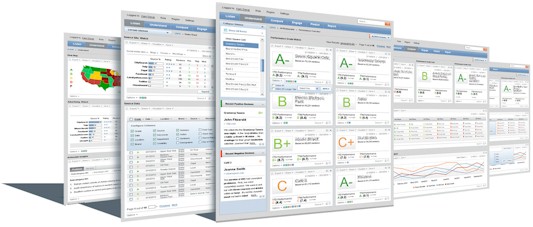 A quality dashboard achieves these results by:
Presenting a relevant bird's eye view: Do not track data simply because it is measurable. Instead, make sure your dashboard provides a succinct view of information that matters to your business. The most valuable dashboards not only ensure all within an organization are equipped with the same information, but also provide recipients with the relevant information needed to effectively plan, manage, and identify trouble spots and opportunities.
Giving a real time view: Traditional reporting takes a review-mirror approach and often presents dated results. Dashboards present a here-and-now view to make data-driven decisions. As they are automatically updated in real-time, the best dashboards enable organizations to see a live view of meaningful metrics. Just as you can glance down at the dashboard of your car to see how it is running, business dashboards should provide as timely a snapshot of an organization, allowing executives to see information as it changes.
Turning data into insight: The ultimate value in any research-based finding lies in its capacity to be realized through implementation. Keeping the focus on insight that is meaningful and actionable within your organization promotes the best value a dashboard can generate.
Dashboards in action…
Minnesota-based Parasole is one of the nation's premier restaurant concept generators, operators, and developers (founders of Ocenaire, Buca Di Beppo). Realizing the value of performance feedback inherent to online feedback, Parasole executives tracked the commentary through a configured dashboard. The summary was developed with a focus on parameters that would be most meaningful to advancing their customer experience.
For example, management at Parasole's Good Earth restaurant had noticed that customer service was slipping, but was unable to truly understand why and what steps would be most effective to turn things around. As Sarah Nerison, Social Media Marketing Manager at Parasole explains, "We knew we had issues with customer service, but we really weren't sure what the root causes of the issues were. And with an increasing number of competitors moving into our market, it was even more important to make sure we are delivering an exceptional experience to our customers."
Tapping into the dashboards that were created specifically for Good Earth, management could see over time customer feedback themes that "bubbled to the top" in feedback online. These performance reports not only validated the low customer service ratings, but also crystallized the trouble spots that needed improvement. Equipped with new insight through their dashboard, Good Earth's managers shared the findings with the staff, made the necessary modifications, and continuously recognized and rewarded employees for their improved customer relations (as measured through the dashboard)). Within a few months of implementing changes, customer service ratings (based on online customer feedback) improved by 78%.
Making sense of the reams of online feedback about your hotel has never been more important – and for many, more challenging. A customer intelligence dashboard is one of the strongest tools in your arsenal for overcoming this challenge.
A data visualization tool that displays the current status of metrics and key performance indicators for your hotel, dashboards summarize massive amounts of raw text and alerts hotel executives to operational and marketing strengths, weaknesses, and opportunities per every hotel, region and brand. Via a strategically-designed and well-maintained dashboard, hotel executives are readily able to see where they are now, where they need to be going… and what they need to do to get there.